Frame Instructions: Alley Cat Frame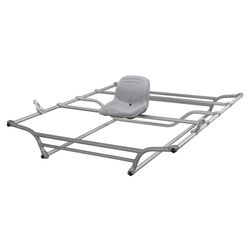 Alley Cat Components:
(2) Yokes
(4) Side Rails
(2) Cross Bars
(1) Universal Seat Mount
(1) Foot Bar
(1) Pair of Oar Mounts
(1) Pair of Cooler Mounts
(1) Frame Wrench
(16) U-bolts
(32) Washers and Locking Nuts
(1) High-Back Drain Hole Seat with bolts and washers
Note: Side Rails, Cooler Mounts and Seat are packaged separately
Directions
Lay out the frame parts as shown in the image above.
Attach the Universal Seat Mount to the center of one of the cross bars.
Begin by placing the yokes upside down with the narrow end up.
Install U-bolts on the inner yoke LoPros. Add the washers and the nuts, leaving them loose. Slide the two inner side rails in through the U-bolts, then tighten the nuts. Alternate between the nuts to bring them down evenly.
Turn the yoke right side up so that the inner rails are supporting the frame. Follow step 2 with the outer rails.
Set the seat, foot, and cross bars in place and add the U-bolts, nuts and washers. Adjust the cross bar so that it fits against the cooler or dry box snugly. (It may be necessary to remove the U-bolts to make adjustments.)
Add seat, cooler mounts, and oar mounts.
Check to be sure that all of the U-bolts are tight. Periodically check the tightness of all nuts and bolts.