Frame Instructions: Deluxe Footbar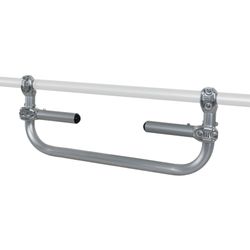 NRS Deluxe Foot Bar Components:
(1) Pre-assembled Footbar
(2) Standard U-bolts
(4) Washers and locking nuts
Directions
Position the footbar on the cross bar in the desired location.
Once everything is lined up, install the U-bolts into the LoPros and tighten the nuts and washers.
Check to be sure that all of the U-bolts are tight. Periodically check the tightness of all nuts and bolts.