Fishing Frame Additions and the Sport Cat Frame
At NRS we strive to design and build new products that meet specific needs for you, our customer. NRS speaks "fishing." Our raft and cataraft fishing frames are praised by fishermen everywhere for their excellent features and modular adaptability. And we keep coming up with new ways to make them even better.
Mountain West Wholesale Rep Jim MacAllister is a longtime fishing guide who's prowled the rivers of the western U.S. and Alaska for years, guiding clients and flinging flies himself. I won't say he'd rather fish than drink good whiskey, but it's possible.
One day in the fall of 2010, a group of us met in the NRS Frameshop for a frame R&D session. We brainstormed and hammered out a few good ideas to try. After others left, Jim, Frameshop Manager Rob Gleason and I hung around to continue the conversation. Rob is one of those amazing craftsmen who can visualize complex shapes and thinks in angles, degrees and fractions. When he starts telling me something, I'm forever having to say, "Slow down, Rob and draw me a picture. I don't know what the hell you're talking about."
Marketing Manager David Blue has stepped out of the Revolution 140 Raft to fish a riffle on the Klickitat River, south-central Washington. © Ashley Niles
Jim wasn't satisfied with our thigh bars. He and Rob kept batting ideas back and forth and voila, right before my eyes they came up with the Frame Casting Platform for Front Thigh Hook and the Front Thigh Hook to attach to it. The casting platform attaches to an Angler Seat bar. If the front fisherman wants to sit on a cooler, we can attach the platform to a crossbar. You can stand with both legs locked inside the thigh hook or just hook one leg inside. You've got solid, stable footing and there's very little to snag a fly line. And we've built the Rear Thigh Hook to clamp on a crossbar for a fisherman in the back of a raft. Or, you can attach it to a yoke on a cataraft frame. Jim's happy as a pig in poop; his personal Otter 140 now has the combo installed.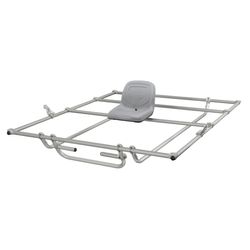 We designed the Sport Cat Frame for cataraft tubes 23" and smaller. The drop side rails are 5 1/2" below the top rails, giving plenty of clearance to connect to the inner D-rings on those smaller tubes. It's a great set-up for day-float action; or you can hang a cooler or dry box between the crossbars, strap on some camping gear and you're good for a multiday.
With the lower rails adjusted so the top side rails are at the center of 23" diameter tubes (or just a couple of inches further out) you have the same ~40.5" between the tubes as you have with one of our 72" yoke-style cat frames. Plenty of room for a full-size cooler or dry box.
At 67 pounds, it's our lightest cat frame. Pairing the Sport Cat Frame with smaller, maneuverable cataraft tubes produces one sporty, high-performance cat!
Clyde Nicely
Editor, NRS e-News