Frame Instructions: Slant Seat Stern Frame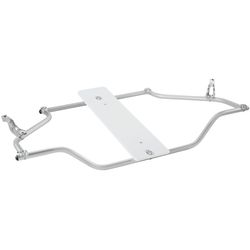 NRS Slant Seat Stern Frame Components:
(1) Foot Bar
(1) Seat Rail
(2) Side Rails
(4) U-bolts
(16) Washers and Locking Nuts
(1) Frame Wrench
(1) Pair of Oar Mounts
(1) HDPE Seat, w/ pegs
Directions
Lay out the frame parts as shown in the image above. (Note: These bent rails are asymmetrical to allow you to choose the best placement of the oar mounts along the length of the side rail. Please make sure to match the similar ends of the side rails, when connecting them to the seat and foot bars. To change the placement of the oar mounts without placing them on a bend, simply reverse the direction that the side rails are connected.)
Place the U-bolts over the side rail and then push the LoPro Fitting onto it.
Add the washers and locking nuts, leaving them loose.
Place the HDPE Seat over the center of the seat rail and foot bar, short end on the foot bar. Press U-bolts up through the forged pegs, add washers and locking nuts, leaving them loose.
Lay the frame up on the stern of the boat. Adjust the frame to the rise of the stern tubes and tighten all the nuts. On each LoPro and forged peg, tighten the nuts down evenly. Tighten until snug, there's no need to overtighten.
Add oar mounts to the side rails.