Frame Instructions: Stern Seat Mount Frame
Stern Seat Mount Components: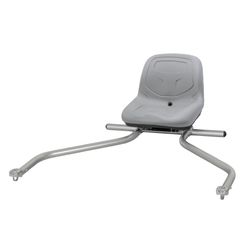 (2) Bent Side Rails
(1) Seat Rail
(1) Universal Seat Mount
(4) U-bolts
(8) Washers and Locking Nuts
(1) Angler Swivel Seat with nuts, bolts and washers
Note: Seat is packaged separately. Cross bar is not included.
Directions:
Lay out the frame parts as shown in the image above. (Note: These bent rails are asymmetrical; please make sure to match the similar ends of these side rails when connecting them to the seat rail and frame cross bar.)
Attach the Universal Seat Mount to the center of the short cross bar and add the seat.
Set the side rails on the seat rail and cross bar and install the U-bolts. Add the washers and nuts, leaving them loose.
Check to be sure that all of the U-bolts are tight. Periodically check the tightness of all nuts and bolts.