Product Details
The NRS Women's Crux Drysuit's innovative Eclipse™ 4-layer waterproof-breathable material gives you all-day dry comfort. And you'll love the convenient dropseat zipper!
Designed for a woman's body because your paddling gear shouldn't be a smaller men's model.
4-layer Eclipse fabric, with its proprietary waterproof-breathable barrier and Nanosphere® DWR finish lock water out while letting moisture escape.
The supple polyester microfiber shell allows frictionless paddling with superior resistance to puncture and abrasion.
No longer do you need to strip out of the suit to answer nature's call. You will love the TIZIP® MasterSeal zippered drop seat.
The overskirt, with its 5" wide neoprene band and double-pull hook-and-loop closure fits over your sprayskirt tunnel to complete a watertight seal.
Attached drysocks are made from the same 125 denier Eclipse fabric. The seams are taped on the inside of the socks, with double taping in the toe and heel area for extra durability.
Cut roomy enough for insulating layers and allows unrestricted freedom of movement.
Top quality latex wrist and neck gaskets seal water out.
The heavy-duty TIZIP® MasterSeal waterproof entry zipper allows easy entrance and is covered with a hook-and-loop sealed flap for extra protection.
Punch-through neoprene overcuffs protect the wrist and neck gaskets.
Single-seam legs eliminate wear points and improve mobility.
For improved durability, we've used an extra burly Eclipse fabric in the seat and lower leg. Its high-density exterior weave provides maximum resistance to abrasion and puncture.
Imported.
WARNING: This product can expose you to Chloroprene and Carbon Black, which are known to the State of California to cause cancer and birth defects or other reproductive harm. More about California Proposition 65 »
Specs
Weight:
Medium 3.20 lbs
Material:
4-layer Eclipse™
Entry Style:
Front-Entry
Waterproof:
Yes
Breathable:
Yes
Neck Closure:
Latex gasket with neoprene volcano-style overcuff
Wrist Closure:
Latex gaskets with adjustable hook-and-loop overcuffs
Waist System:
Overskirt with double-pull hook-and-loop adjustment
Ankle Closures:
Adjustable hook-and-loop
Pockets:
Latex Neck Gasket:
Yes
Latex Wrist Gaskets:
Yes
Latex Ankle Gaskets:
No
Socks:
Fabric
Relief Zipper:
Yes
Reflective Detailing:
No
Gender Sizing:
Women
Features:

Extra layer of burly Eclipse fabric in the seat and lower legs
Drop seat relief zipper
Heavy-duty TIZIP® MasterSeal zippers
Sizing
| Size | Height | Weight (lbs) | Bust | Waist | Hips | Numeric Size |
| --- | --- | --- | --- | --- | --- | --- |
| XS | 4'8"-5'2" | 90-115 | 30"-33" | 24"-27" | 34"-37" | 4 |
| S | 5'1"-5'6" | 110-135 | 32"-34" | 26"-30" | 36"-39" | 6 |
| M | 5'5"-5'8" | 130-155 | 33"-37" | 29"-33" | 38"-42" | 8 |
| L | 5'7"-5'10" | 150-180 | 35"-39" | 32"-36" | 40"-44" | 10 |
| XL | 5'9"-6'0" | 175-210 | 38"-42" | 35"-39" | 42"-46" | 12 - 14 |
| XXL | 5'11"-6'2" | 200-220 | 41"-43" | 38"-41" | 44"-48" | 16 - 18 |
Show Metric Sizing | Measurement Tips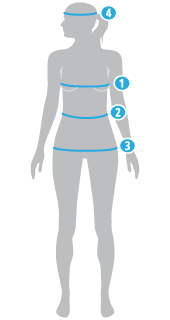 How to measure:
Chest/Bust: With arms down at your sides, measure around the largest part of the chest, generally across the nipples.
Waist: Measure at the natural waist; above the hip bones, across the navel.
Hips: With feet together, measure around the widest part of the hips, across the fullest point of the buttocks.
Head: Measure above brow, around the fullest part of the head.
Form Fit
Next-to-skin fit for easy layering and efficient performance.
Semi-Form Fit
Fits close but not tight for comfort and layering ease.
Relaxed Fit
Full cut for freedom of motion and layering underneath.
You May Also Like
Reviews
Questions